Cholestasis of Pregnancy: Causes, Symptoms & Treatment
---
Fact Checked
All the blogs on this website are intended to answer your toughest questions and offer relevant doubts based on scientific studies.
Dr. Namita Kotia has been practicing infertility treatment at Aastha Fertility Care since 2010, and during this time, she has helped around 2000+ couples become parents through IVF treatment and also other assisted reproductive technology (ART) methods like ICSI, IUI, GIFT, etc. Dr. Namita provides her patients with the best possible care and treatment options.
---
It's common to experience odd and new symptoms in the latter part of pregnancy. Some women might feel intense itching on their hands and feet, making their skin appear yellow. These odd symptoms might not sound serious but can indicate intrahepatic Cholestasis of pregnancy (ICP).
Book Free Online Confidential Consultation with Our Fertility Expert
Schedule A Confidential Call With An Expert
Cholestasis is a rare but serious liver disorder that only happens in the last second or last trimester when hormone levels peak. This increased amount of pregnancy hormones can disturb the normal flow of bile, leading to the build-up of bile acids in your body.
If not treated within time, Cholestasis can be dangerous for your baby as it increases the risk for fatal diseases, stillbirth, and premature deliveries. Fertility experts at Aastha Fertility Center keep track of your daily health issues and status. The doctors have frequent consulting sessions with their patients to get the details for all the minor changes or symptoms they experience in the pregnancy trimester, suggesting treatments accordingly for the best results.
If you are also experiencing yellow eyes, skin, and itchiness in your hands and feet, then this blog about Cholestasis of Pregnancy will help you with the essential details you must be aware of.
What is Cholestasis of Pregnancy?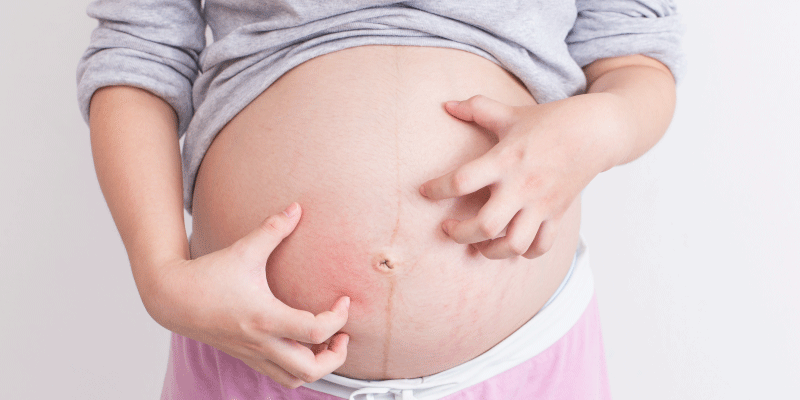 Cholestasis of pregnancy, also known as obstetric Cholestasis, is a common liver disease that makes your skin appear yellow and causes severe itching in the last trimester of pregnancy. You get ICP when bile from your body doesn't flow in the right way.
Bile refers to the fluid in our liver that helps digest fat from food and helps the body get rid of bilirubin. Cholestasis causes bilirubin and bile to build up in your bloodstream, making the skin itchy and yellow.
Obstetric Cholestasis can cause a series of complications for both baby and the expectant mother if not treated at the appropriate time. But the good thing is that Cholestasis of pregnancy has no long-term complications and usually disappears after delivery.
What Causes Cholestasis of Pregnancy?
The exact causes of obstetric Cholestasis during pregnancy are not known. However, some of the factors that are known to reduce the bile functions are:
Genetic:
Some pregnant women might experience Cholestasis during pregnancy due to the genetic ladder. Those with genetic records for OC may inherit the bile problem that affects bile production and passage through ducts. OC will, therefore, not cause any series issues unless in the pregnancy period. During pregnancy, the increase in hormonal activity can alter the normal hormonal balance, leading to serious concerns from Cholestasis of pregnancy.
Hormonal:
An increase or any alteration in pregnancy hormones can affect liver functions. Pregnancy hormones, including estrogen and progesterone, are usually higher in the last trimester and can cause Cholestasis during pregnancy. OC is also common with triplet or twin pregnancies due to increased hormonal levels.
Environmental Factors:
Selenium deficiency usually happens in winter and is also fetched to be a nutritional factor behind Cholestasis of pregnancy.
Who Are More Likely to Suffer from Obstetric Cholestasis?
Nearly about 1 or 2 out of 1000 pregnant women experience ICP. It is because the production of increased estrogen stops or slows down the bile flow, and you cannot prevent it. But the right expert assistance can help with effective and timely treatments to reduce any risk for the newborn.
You may be more prone to Cholestasis in pregnancy if you:
Have a genetic record of ICP
Carrying twins or triplets
Had IVF treatment. 
Suffering or experiencing liver damage.
Have chronic hepatitis C.
What Are the Symptoms of Cholestasis of Pregnancy?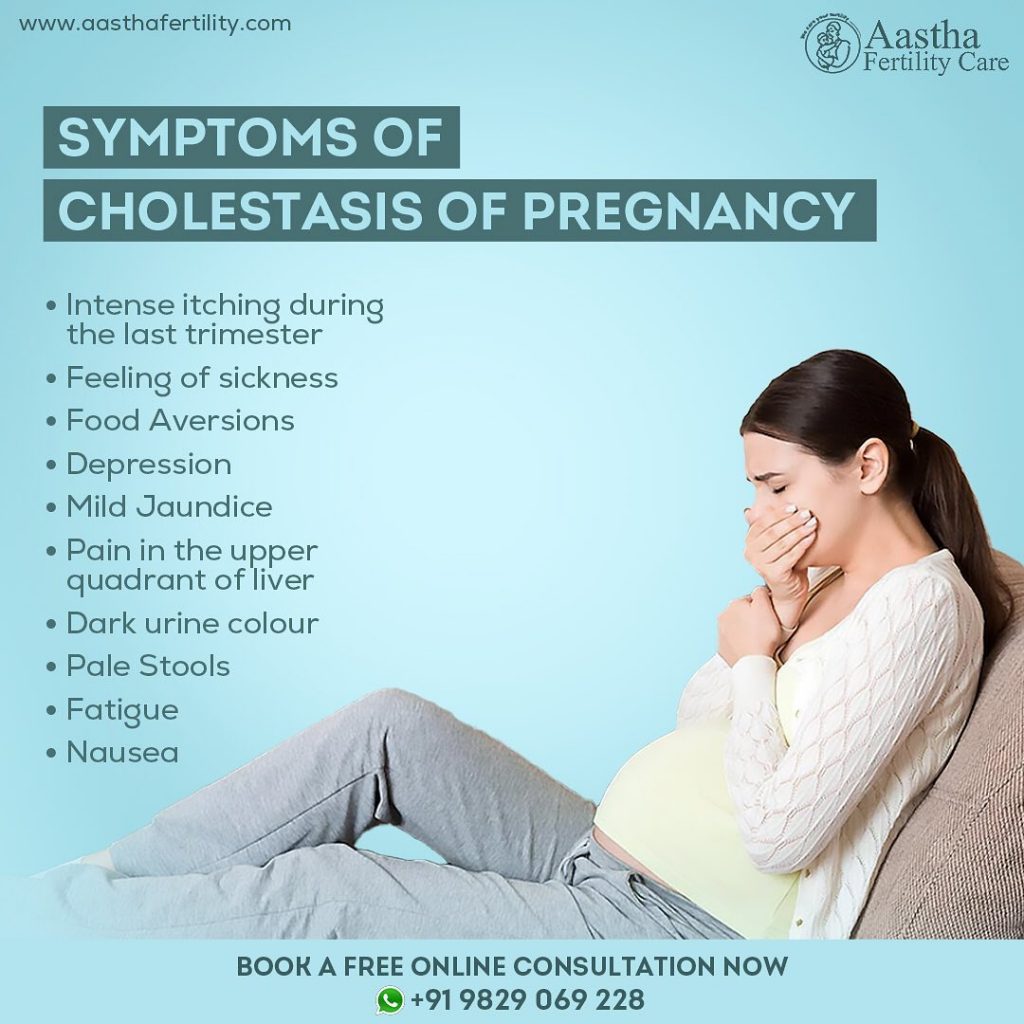 Intense itching during the last pregnancy trimester that develops into a rash is one of the most common symptoms of Obstetric Cholestasis. However, some women might experience it near or after 24 weeks of pregnancy when the hormone level is quite high. The following itching characteristics during pregnancy that might indicate OC are:
It mostly occurs on the soles and palms but sometimes might also affect the other areas of the body.
The itching can range from mild to severe.
The itching may get worse during the nights until the due delivery date.
Itching can affect your concentration, mood, and sleep pattern.
Other symptoms of obstetric Cholestasis during pregnancy might include:
Sick or feeling of Illness
Pale Stools
Tiredness
Nausea
Depression
Fatigue
Depression
Mild Jaundice
Pain in the upper quadrant of liver
Dark urine colour
Mild itching during the last pregnancy trimester is normal, but if the normal itching turns out worse in combination with other symptoms, then you must consult your gynecologist immediately.
What Are the Complications of Cholestasis of Pregnancy?
Obstetric Cholestasis may involve temporary and permanent complications for the baby and pregnant mother. In addition, women might face some issues with the absorption of Vitamin K that further increases the risk for haemorrhage (heavy internal bleeding).
A complication for the baby due to obstetric Cholestasis includes:
Stillbirth: The death of a baby in the womb before delivery.
Premature Birth: A baby's birth before the organs' development.
Breathing Problems: Baby might inhale Meconium (first stool) through amniotic fluid before birth, further causing respiratory problems.
Fetal Distress: Decreased movement or abnormal heart rate.
Treatment for Obstetric Cholestasis
The primary goal of OC treatment is to relieve itching from the palm and soles. Doctors will therefore advise the following measures that may help alleviate itching:
Wearing cotton and loose-fitting clothes
Cold water baths
Using detergents and mild soaps
Avoiding hot water baths
Applying creams with chamomile and calendula
Opt for mild bath shower gels
Proper resting whenever you are tired
Avoid humid and hot weather conditions
These measures will help with temporary relief and might offer permanent benefits to some expectant mothers. Medically approved treatments that further help reduce bile salt levels for the baby's protection are:
Vitamin K Supplements 
This helps with blood clotting.
Steroids
Aid with early maturity of baby's lungs.
Ursodeoxycholic acid 
Helps normalize bile and liver acids and eliminates itching.
Diet For Cholestasis of Pregnancy
To provide effective treatment for Cholestasis during Pregnancy, doctors will first advise diet to their patients. The primary goal of this diet is to release the strain from the liver, making it easier for the intestine to absorb minerals and vitamins from the food. The expectant mother should consume food containing lecithin and other options, including:
A mix of organic vegetables and fruits such as pumpkin, carrots, red cabbage, cauliflower, and others.
Food is rich in omega-3 fatty acids and omega-6 fatty acids.
High protein food options include beans, nuts, eggs, and fish.
Opt for a low-fat diet including rye, rice, wheat, oats, corn, and others.
Lemon juice normalizes the bile acids.
Increased water amount to flush the toxins.
All these food options will help neutralize the bile production system in the liver and promotes healthy liver health.
Conclusion
Cholestasis is a temporary health condition usually detected during the last trimester of pregnancy. However, it may adversely affect the expectant mother and newborn baby if the symptoms are not treated correctly.
If you are also planning for a pregnancy or IVF procedure, Our IVF Specialist at Aastha Fertility will help you with a healthy pregnancy. Our healthcare providers will guide you about all the steps you can take to prevent ICP and promote a healthy pregnancy. 
Schedule your appointment now to get more details.