How Does IUI Work? The Complete IUI Procedure Step By Step
---
Fact Checked
All the blogs on this website are intended to answer your toughest questions and offer relevant doubts based on scientific studies.
Dr. Namita Kotia has been practicing infertility treatment at Aastha Fertility Care since 2010, and during this time, she has helped around 2000+ couples become parents through IVF treatment and also other assisted reproductive technology (ART) methods like ICSI, IUI, GIFT, etc. Dr. Namita provides her patients with the best possible care and treatment options.
---
Infertility issues are rising among females because of age, physical problems, hormone problems, and lifestyle or environmental factors. Most of these factors are not under our control, and if you are also among the women who have infertility, you can go for Assisted Reproductive Technique. There are many Assisted Reproductive Techniques like IUI works and give successful pregnancy to female fertility issues. IUI has brought hope into the lives of many women by giving them the opportunity to get pregnant. The success rate of intrauterine insemination when the blockage is closest to the ovary is 11.7%, and when the blockage is closest to the uterus, the success rate is as high as 38.1%.
Difference Between IVF And IUI?
Book Free Online Confidential Consultation with Our Fertility Expert
Schedule A Confidential Call With An Expert
IUI takes place internally, the sperm is injected directly into the woman's uterus. IVF procedure on the other hand takes place outside the uterus. It takes place in the lab. The sperm and egg are integrated for fertilization. After this process, one or more of the successful fertilizer eggs are placed in the woman's uterus. The fertilized eggs are grafted into the lining of the uterus which results in pregnancy and the birth of a baby or babies.
IVF also has a higher success rate than IUI. It is also proposed that couples try three rounds of IVF before going for the IVF procedure. Also, IVF has a 30% percent success rate. However, it increases when the woman is above 35 years of age.
What Is Intrauterine Insemination?
Intrauterine insemination (IUI) is a type of fertility treatment. In this, sperms are directly placed into the woman's uterus through the cervix, which helps healthy sperm to get closer to the egg. In IUI, when a woman is ovulating, sperm is directly put into her uterus, which shortens the time and distance sperm has to travel, making it more hospitable to fertilize the woman's egg. In IUI, when the sperm is placed into the uterus, it is expected that it will travel into the fallopian tube and fertilize an egg, resulting in pregnancy. IUI is chosen by most couples when they have the following issues:
IUI with Donor sperm: IUI is largely used to achieve pregnancy for women who need sperm donors. Frozen donor samples are obtained from certified laboratories and dissolved before the IUI procedure. When the sperm quality of the male partner is not viable for reproduction or a single woman wants to get pregnant, or if a couple does not wish to transmit a genetic disorder to their child, they need a sperm donor. IUI is the most common procedure used to achieve pregnancy with donated sperm.
IUI with Unexplained infertility: IUI is mostly performed first as a form of infertility treatment for unexplained fertility. This is done alongside ovulation-inducing medications. When the doctor could not determine the reason for infertility, IUI is the first procedure the doctor recommends.
PCOS: IUI is also a valid option for women who are suffering from Polycystic ovary syndrome (PCOS). However, if the IUI procedure has been tried for about two to three cycles without a successful pregnancy. It is advisable to try other options.
IUI with Endometriosis-related infertility: For infertility problems associated with Endometriosis conditions, performing IUI with medications to get a good and quality egg is usually the first form of treatment. Endometriosis is a condition in which the tissue that normally lines the uterus grows outside the uterus. In such cases, the first approach usually is performing IUI and using medications to achieve a good-quality egg.
Mild male factor infertility (subfertility): One of the first approaches to infertility treatment is examining the partner's semen analysis. The results are either below-average sperm concentration, motility of sperm, or abnormalities in sperm morphology. IUI is effective in tackling this problem because readying the sperm for the procedure helps differentiate highly motile, normal speed from the ones of lower quality. When the quality of your partner is below average, then IUI is the first procedure a doctor suggests because when preparing sperm for the procedure, they separate highly motile, normal sperm from those of lower quality.
Low Sperm Count In Men: IUI is an effective procedure for getting pregnant even with cases such as low sperm count in one's partner. However, the lower the count, the lower the success rate. Research has revealed that IUI done with 9 million motile sperm had a 17% success rate. This implies that if the sperm count drips below 9 million, so does the success rate.
IUI Works With Sperm Morphology: There is a vast relationship between IUI results and sperm morphology. This is because sperm morphology which refers to the shape of the sperm can affect the IUI result. Success rates with IUI are higher than 14% or more if the sperm has a normal morphology.
Cervical factor infertility: IUI is effective for cervical factor infertility because the specially readied sperm sample is infused directly into the uterus using a small catheter. And this prevents the sperm from being exposed to cervical mucus which is a hindering factor in Cervical infertility. Thereby reaching the uterus.
If the cervical mucus is too thick, it can hinder the sperm's journey. In IUI, sperm bypasses your cervix, depositing sperm directly into your uterus and increasing the number of sperm available to meet the awaiting egg. That's why IUI is a good option for women with cervical factor infertility.
Irregular Periods: IUI with controlled ovarian stimulation is a great option for patients with irregular periods. Investing in stimulating medications can help follicles mature and produce eggs that can help women ovulate.
Ovulatory factor infertility: In the case of Ovulatory factor infertility, IUI is the first treatment approach considered by doctors.
Blocked Fallopian Tube: If a patient's tube is blocked, IUI may not work. Given this, it is usually not a recommended treatment for women with serious endometriosis. Women with mild endometriosis can appropriate IUI once there is no history of distortion of the pelvic structures.
Semen allergy: When a woman has an allergy to the proteins present in semen, then also IUI is the best approach for the treatment. IUI can be effective since before inserting the semen; doctors can remove the proteins from the semen.
How long does it take for IUI to work?
After the IUI process, it is common for fertility specialists to advise the patients to lie down for about 10-15 minutes. As against lar belief, it is not to prevent the sperm from leaking out. The IUI catheter places the sperm sample directly into the uterus, so the sperm can stay in its rightful place.
The success rate of IUI the first time is between 10 to 20 percent. For women who are 40 and above, the chances are slimmer and they are between 2 to 5 percent. The chances of successfully conceiving reduces. Therefore, a patient has about 30 to 60 percent and this is for 3 attempts.
How is IUI Beneficial?
With medical science progressing, now we have many Assisted Reproductive Techniques. Let us see why Intrauterine insemination is better than other Assisted Reproductive Techniques.
IUI is cheaper when compared with IVF, ICSI.
It is less invasive as in this process, only sperm is placed into the uterus, unlike IVF.
Sperm quality enhances because of the washing procedure. In IUI, prostaglandins, infectious agents, antigenic proteins, non-motile spermatozoa, immature germ cells, etc., are removed for a better quality sperm.
This process is less painful and does not require anesthesia.
IUI increases the chances of getting pregnant more than the regular sex.
IUI is gentler on the body than IVF. IVF might deteriorate the quality of the egg and could be harsh and aggressive on your body.
There are fewer chances of Ovarian Hyperstimulation Syndrome (OHSS).
It is a great way to see how a woman's body will react before going to IVF without wasting an ovulation cycle.
Step-by-Step Guide for IUI Process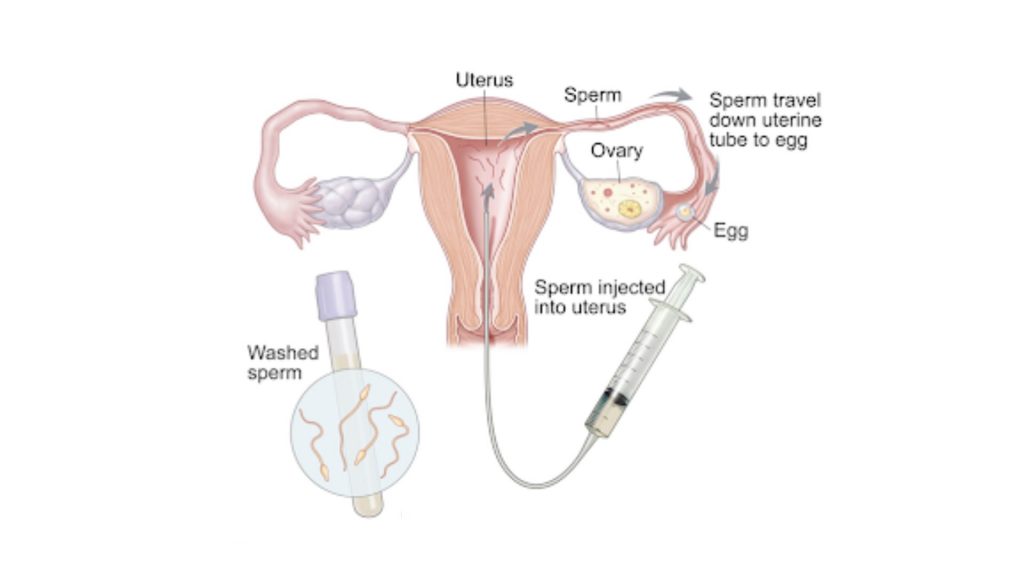 If you are thinking of getting IUI done, there might be many questions about the procedure. In order to answer that let us go through the step-by-step process of IUI.
The first step is to find the perfect timing for the insemination of sperm while the woman is ovulating. In case the woman has already been through an unsuccessful IUI or has a problem with ovulation, oral or injectable medications are given to the woman to stimulate the growth and maturation of her eggs.
When a woman is ovulating naturally, she has to keep track of her ovulation cycle to go to the doctor within 24-36 hours for further carrying out the IUI procedure. In the case of injectable medications, with the help of AMH, hysteroscopy tests are done every 2-3 days to monitor the ovaries and egg development. Once a ripe egg is present, the woman receives a trigger shot that causes ovulation within about 36 hours.
Sperms are washed, and prostaglandins, infectious agents, antigenic proteins, non-motile spermatozoa, immature germ cells, etc., are removed for a better quality sperm. Then the best quality sperm is chosen for the process.
The doctor inserts the sperm into the patient's uterus using a long thin tube called a catheter in medical terms. It is inserted into the uterus through your vagina, passing through your cervix area. The tube then releases the sperm into your uterus and hopes to successfully carry out its further journey towards the eggs.
The last step is to hope for the best and take a pregnancy test after a few days of insemination.
What to expect after IUI is done?
Vaginal discharges are common following the IUI procedure. This is nothing to worry about. It is a myth that this discharge is a leakage from the IUI. it is not, it is the cervical mucus during this period that was dislodged.
Slight potting is another normal symptom after the IUI procedure.
Some patients experience mild cramps after the IUI procedure. This does not imply that anything is wrong however it requires that you take some time out to get more rest. Using over-the-counter painkillers such as acetaminophen isn't a bad idea. In cases where it gets works and you begin to bloat, bleed or experience severe pain, reach out to your fertility specialist immediately. This could be a sign of infection or an uncommon effect
How to prepare so that IUI works effectively and easily?
Avoid undue stress and anxiety
Avoid ejaculation for at most three days
Inquire about possible hormone stimulation
Eat healthily
Exercise regularly
One should keep the following things in mind before going for Intrauterine insemination.
Avoid stress because it could have an impact on the success rates of treatments.
Take a healthy diet.
Avoid ejaculation for three days because of the volume of semen and the amount of sperm matter during IUI.
One has to go for the test of sperm quality and if the male candidate has oligospermia. Then he should opt for good food that increases sperm count.
Conclusion
Intrauterine insemination is a good treatment if you can not get pregnant naturally. Before trying any other Assisted Reproductive Technique, one should try IUI. IUI success rates are reasonable and treatment is affordable than other artificial reproduction techniques. If you are looking for a good fertility clinic, with Experienced fertility specialists then your search is over. Aastha Fertility Care provides the best IUI treatment and comes with the best success rates in India. They take care of your every need and make your journey to pregnancy very smooth.
Frequently Asked Questions
1. How do I know if IUI is working?
The most effective way to be sure if IUI is working is to take a pregnancy test after 14 days of the IUI procedure.
2. How many cycles does it take for IUI to work?
Research has shown that the majority of IUI pregnancies occur between the first three to four cycles of the IUI procedure.
3. Did my IUI work?
The most effective way to be sure if IUI is working is to take a pregnancy test after 14 days of the IUI procedure.
4. How Does Progesterone Work After IUI?
Progesterone is a hormone produced by the ovaries essential for the uterus to prepare for and protect a pregnancy.
5. How Do I Know If My Iui Is Successful?
The most effective way to be sure if the IUI procedure is successful is to take a pregnancy test after 14 days of the IUI procedure.