Hysteroscopy Cost: What You Should Know Before The Treatment
---
Fact Checked
All the blogs on this website are intended to answer your toughest questions and offer relevant doubts based on scientific studies.
Dr. Namita Kotia has been practicing infertility treatment at Aastha Fertility Care since 2010, and during this time, she has helped around 2000+ couples become parents through IVF treatment and also other assisted reproductive technology (ART) methods like ICSI, IUI, GIFT, etc. Dr. Namita provides her patients with the best possible care and treatment options.
---
If you have heavy menstrual periods or severe cramping or if your doctor needs to learn more about your reproductive health, a hysteroscopy can be performed to examine your cervix and uterus. In fact, this procedure is one of the most common ways to diagnose uterine fibroids properly. Through this test, doctors examine your cervix and uterus by inserting a small camera into your vagina. It can help them identify and treat problems like fibroids, polyps, and infections.
If you are looking for a low-cost Hysteroscopy procedure in India, then look no more. Aastha Fertility care, the leading IVF hospital in Jaipur, offers comprehensive diagnostic and operative services. The average cost of a Hysteroscopy procedure in Aastha ranges from INR 15000 to INR 25000 only, depending upon the investigation's nature.
The cost of hysteroscopy procedures varies depending on the extent of the process. For instance, a diagnostic-only method is much less than one involving surgery. You can expect to pay anywhere from 20,000 INR to 50,000 INR for an outpatient procedure. However, you should know that the average cost of hysteroscopy is INR 25000.
| | | |
| --- | --- | --- |
| *Diagnostic Hysteroscopy & laparoscopy | Rs.18,000.00 | $500.00 |
| *Operative hysteroscopy &/or laparoscopy | Rs.30,000.00 | $1000.00 |
What is Hysteroscopy?
Hysteroscopy is a process used in diagnosing and treating abnormal bleeding in females. In this procedure, the doctor uses a hysteroscope to look inside your uterus. This thin tube is lighted and allows the doctor to get a clear picture of your uterus. This procedure of Hysteroscopy can be used as both a testing and an operative procedure.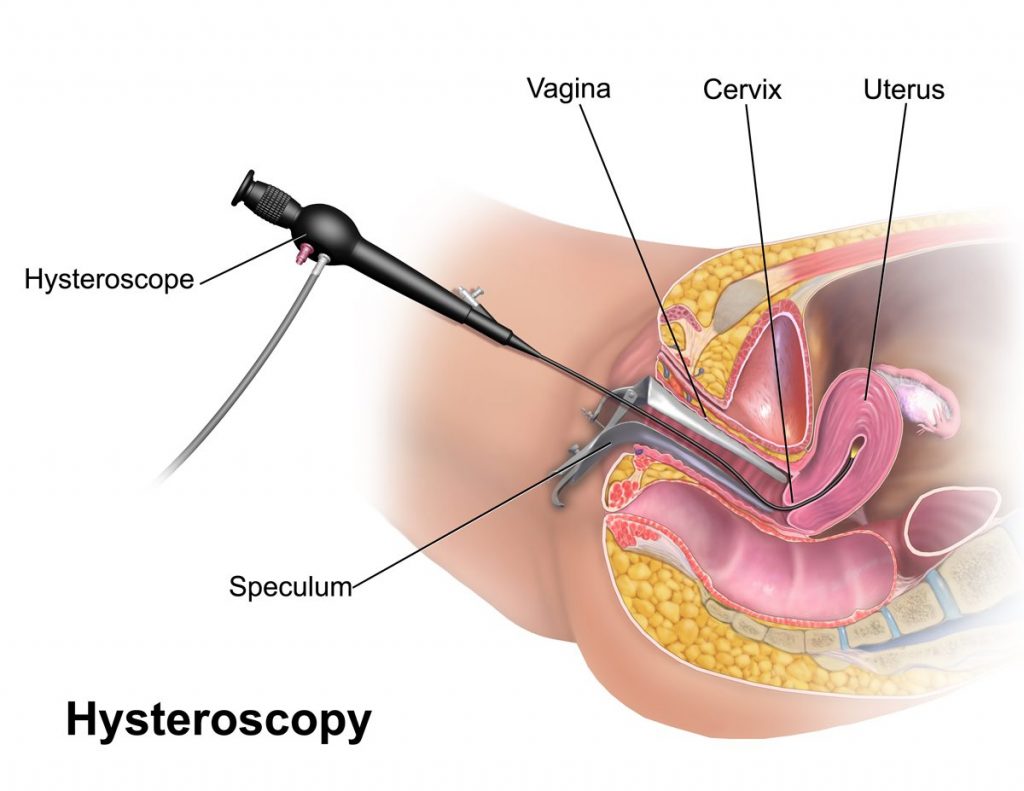 Foremost doctors use the diagnostic Hysteroscopy before the IVF and IUI procedure; to examine the natural causes of infertility, bulky uterus, and heavy bleeding. This test takes 30-40 minutes and is a minor procedure. Also, just like the painless IVF procedure, you do not feel any pain during the process; however, you may feel slight cramping, which fades away with time.
What Exactly is Diagnosed In the Hysteroscopy test?
Hysteroscopy test is used to detect many uterus issues such as fibroids and polyps, which are non-cancerous growths occurring in the womb, displaced IUDs, and adhesions that might cause reduced fertility or reduced periods. The process reveals the shape, size, and abnormalities in the uterus, affecting fertility in women. Also, an operative hysteroscopy can remove the blockages in fallopian tubes and remove unwanted growths such as fibroids or polyps.
How are Hysteroscopy procedures performed?
It depends on the patient's condition, which decides if the Hysteroscopy is either an operative hysteroscopy or diagnostic Hysteroscopy.
Diagnostic Hysteroscopy is not major surgery. It is just a tiny process to view inside the uterus. It is done by inserting a visualizing scope through the vagina in the cervical opening. It is usually done to view the uterus and fallopian tubes.
Adhesions are scars that form inside the uterus, often following infection or surgery. They can cause menstrual problems and make conceiving difficult. The Operative Hysteroscopy locates and removes adhesions or tissue that's causing painful periods or making it hard to conceive.
Read how these home remedies have effectively helped many women to get rid of stomach aches.
If you're planning on having children in the future, this procedure can be done before your fertility declines. It is also used to locate and remove an intrauterine device (IUD) inserted into the uterus for birth control.
Benefits of Hysteroscopy
To reduce the risk of infection.
To prepare for an examination or surgery.
To reduce or stop bleeding from a cesarean section.
To control abnormal bleeding from the uterus.
To ensure that structures in the pelvis, such as the bladder and bowel, are not disturbed during surgery performed near them.
To sterilize you, usually after you've had children.
How Much Does Hysteroscopy Test Costs?
The cost of the Hysteroscopy Test ranges from 15,000- 50,000INR, whereas at Aastha Infertility care, It is done at as low as only Rs 30,000, which is included in the total cost of IVF in Jaipur.
The cost of Hysteroscopy is dependent on various factors like consultation fee, medicinal fee, admission fee of the hospital, etc. However, it also varies from hospital to hospital and from city to city. Also, patients can make the payment for the procedure through cash or online payments, depending on their convenience. Also, if you are looking for an affordable Hysteroscopy procedure, you can check out the Aastha fertility center, which gives you the best deals in the country.
What factors influence the price of a hysteroscopy procedure-
The average cost of a Hysteroscopy procedure depends on a variety of factors. If it is for a diagnostic procedure or if it is an operative procedure. An insurance claim for this procedure will cover at least 50-75% of the overall cost of the Hysteroscopy, making it affordable for those who don't have medical insurance as well.
How to save on the cost of a hysteroscopy procedure?
If you really want to save on the cost of Hysteroscopy, then the best way is to take medical insurance, such as from Medicare. The Medicare Advantage plans also cover hysterectomies and include a high annual budget at once, which Original Medicare doesn't offer. Medicare typically does cover hysterectomies that are deemed medically necessary by a doctor.
Take Away
To sum it up, the Hysteroscopy procedure is a surgical treatment for uterine abnormalities. Besides being a diagnostic tool, it is also used to correct uterine anomalies or abnormalities in various cases. Gynecologists or experts can do it under light sedation in a clinic or an outpatient setting. The cost of a Hysteroscopy depends upon factors such as whether it is diagnostic or operative in nature and the type of anesthesia given.
You can get the process of Hysteroscopy done in Aastha Fertility center, which is also the best IVF center in the country. The hospital has a highly experienced and qualified team of doctors. The clinic has some of the most advanced medical technologies, which makes the clinic stand out from other clinics. The clinic guarantees you a success rate of 90 percent in the IVF processes. The environment of the hospital makes a patient feel safe and satisfied.
Also, the hospital has been awarded a lot of awards by various renowned personalities at various medical conferences and occasions. You can also book an online appointment with the doctors to get a second opinion. If you wish to get information about the other medical facilities provided by the hospital, you can check it out on aasthafertility.com and book your appointment with the best IVF center in Jaipur.