Success Rate For IVF Under 35
---
Fact Checked
All the blogs on this website are intended to answer your toughest questions and offer relevant doubts based on scientific studies.
Dr. Namita Kotia has been practicing infertility treatment at Aastha Fertility Care since 2010, and during this time, she has helped around 2000+ couples become parents through IVF treatment and also other assisted reproductive technology (ART) methods like ICSI, IUI, GIFT, etc. Dr. Namita provides her patients with the best possible care and treatment options.
---
IVF, or In Vitro Fertilisation, is a medical procedure designed to help fertility or prevent genetic issues from facilitating child conception. The most effective assisted Reproductive technology for women whose fallopian tubes are blocked or damaged is in vitro fertilization (IVF).
Understanding IVF success rates enable you to learn from other couples' experiences and, most importantly, provide an answer to the question, "Is IVF 100% successful?".
Book Free Online Confidential Consultation with Our Fertility Expert
Schedule A Confidential Call With An Expert
Age group and method significantly impact the success of an IVF cycle when a specific medical facility has a higher rate of repeated success. Aastha fertility boasts the highest success rate for unexplained fertility problems in both men and women.
Read on to learn more about IVF success rates for patients under 35 and how they may impact you.
IVF success rates have increased in the past ten years, especially for older women.
In the last decade, there has been a tremendous increase in the IVF success rate. A recent report by UNSW medical researchers showed that the live birth rate in commenced IVF cycle in women using their eggs has increased by 18% approximately; one-third of all embryo transfers in women under 35 have ended in childbirth.
According to the fertility authority, we have also seen even better success rates in older age groups. According to a lead professor named Georgina Chambers,
"Women aged 35-39, the live birth rate per cycle started has increased from 19% to 23%, representing a 20% relative increase in success rates, and in those aged 40-44, the live birth rate has increased to 10%, representing a 27% increase in success rates over the last ten years."
Why does Aastha Fertility Have a High IVF Success Rate Under 35 In India?
| IVF treatment | Age | IVF Cost | Highest Success Rate |
| --- | --- | --- | --- |
| IVF with Donor Eggs | 25-35 | ₹ 90,000 to ₹200,000 | Above 75% |
| IVF with self eggs. | 25-35 | ₹ 90,000 to ₹200,000 | Above 65% |
| IVF with Donor Sperms | 25-35 | ₹ 90,000 to ₹200,000 | Above 65% |
| IVF with self Sperms | 25-35 | ₹ 90,000 to ₹200,000 | Above 70% |
| IVF with ICSI | 25-35 | ₹ 90,000 to ₹200,000 | Above 75% |
| IVF with Frozen Semen and Embryo | 25-35 | ₹ 90,000 to ₹200,000 | Above 50% |
| IVF Treatment with TESA and PESA | 25-35 | ₹ 90,000 to ₹200,000 | Above 50% |
| IVF with Laser Assisted Hatching | 25-35 | ₹ 90,000 to ₹200,000 | Above 50% |
| IVF with Surrogacy | 25-35 | ₹ 90,000 to ₹200,000 | About 70% |
| IVF with VEA | 25-35 | ₹ 90,000 to ₹200,000 | Above 50% |
*Please note that the price may differ after proper consultation with a specialist.
IVF with Donor Eggs:
It entails using another person's eggs.
IVF with Self Eggs:
The patient's eggs are used in this procedure.
IVF with Donor Sperm:
This procedure includes using the sperm of another person.
IVF with Self-Sperm:
This process involves using the patients' sperm.
IVF with ICSI:
In this procedure, sperm is directly injected into the egg, known as intracytoplasmic sperm injection.
IVF with Frozen Semen And Embryo:
The frozen semen and frozen embryos during cryopreservation from the partners are used in this procedure.
IVF with TESA and PESA:
When the sperm count is low, men's semen is used in the procedures of TESE (testicular sperm extraction) and MESA (microsurgical epididymal sperm aspiration).
IVF with Laser-Assisted Hatching:
This method entails aiding the hatching process for couples whose embryos cannot implant themselves in the female's uterus.
IVF with Surrogacy:
This procedure entails the embryo's growth in a surrogate woman.
IVF with VEA:
Men with a blockage in their epididymal anastomosis have this procedure. To clear the obstruction, this is done.
IVF Success Rate For Under 35 In Different Cities In India
It is not unexpected that India is emerging as a country with a high success rate for IVF procedures because its IVF rates are affordable and successful. Their laboratories are equipped with cutting-edge technology.
Being the land of medicine and knowledge, India hosts numerous pharmaceutical companies that offer therapy and injection for IVF treatment. Their doctors are highly skilled, and they have a variety of doctors to meet different needs. Rajasthan is already swiftly overtaking other states in India regarding IVF success rates.
These are why India Is an excellent place to start your IVF journey; if you are wondering what state or city to use, here are the cities with a high success rate for you to consider.
IVF success rate in Chennai: 60%
IVF success rate in Hyderabad: 60%
IVF success rate in Jaipur: 60% to 70%
IVF success rate in Pune: 50%-80%
IVF success rate in Ahemdabad: 55% to 80%
IVF success rate in Mumbai: 75%
IVF success rate in Delhi: about 82%.
IVF success rate in Agra: At least 50%.
IVF success rate in Bengaluru: 72%
IVF success rate in Gurgaon: Ranging from 45% to 55%,
IVF Attempts And Their Success Rate For Under 35
As was already established, women under 35 have a higher success rate than documented. The rate of live births with the initial embryo transfer for women under 35 is 41.4%.
8.8% of twins were born during the first attempt, whereas 0.2% of triplets or more were born.
A second IVF success rate is highly likely if the first embryo transfer failed for any reason. There have been numerous instances where the cycle was successful on the second try. The success rates often increase with each subsequent process, especially for IVF patients younger than 35.
You might wonder if the third IVF fails or the fourth cycle success rate is high for women under 35. The percentage ranges from above 65%, and there are many IVF testimonies to support this claim.
A baby can be conceived by the eighth cycle, at least 54% of the time. With a success rate of up to 86% for women under 35, patients who had up to 8 cycles of IVF had a fantastic chance of eventually becoming pregnant.
Embryo Transfer And IVF Success Rate At 30
The Number of Embryos Can Affect The IVF Success Rate
There is much debate about whether employing many embryo transfers is preferable to using a single healthy embryo. IVF success with one embryo exposes you to fewer risks and is a safer option.
Two embryos' chances of succeeding are reduced by one-third; if one embryonic cell is healthy and the other is unhealthy, both might not survive. Typically, this situation argues that quality is preferable to quantity.
The number of follicles, tiny fluid-filled sacs in the ovaries where eggs mature, can also impact the IVF success rate at 30. How many mature follicle counts are required to ensure a successful IVF cycle is a frequently asked issue, but the answer is not set in stone. Although most clinics prefer to see four mature follicles, the number can vary from patient to patient. You may have an IVF success rate of 8 follicles or nine follicles.
The Implantation Day Can Affect The IVF Success Rate
3-Day Embryo Transfer Success Rate
The embryos' cells should be seen as dividing but not growing in size, which is crucial for a 3-day blastocyst transfer success rate. Another term for this is the cleavage stage. Currently, 40% of these tries are successful.
4-Day Embryo Transfer Success Rates
There is little or no difference between the day four and day three embryo success rates.
5-Day Blastocyst Transfer Success Rates
Many fertility clinics favour transferring embryos beyond day five. As a blastocyst, the source constantly divides and increases in cell number. This stage has a high success rate of 69%.
IVF Success Rate By Age In India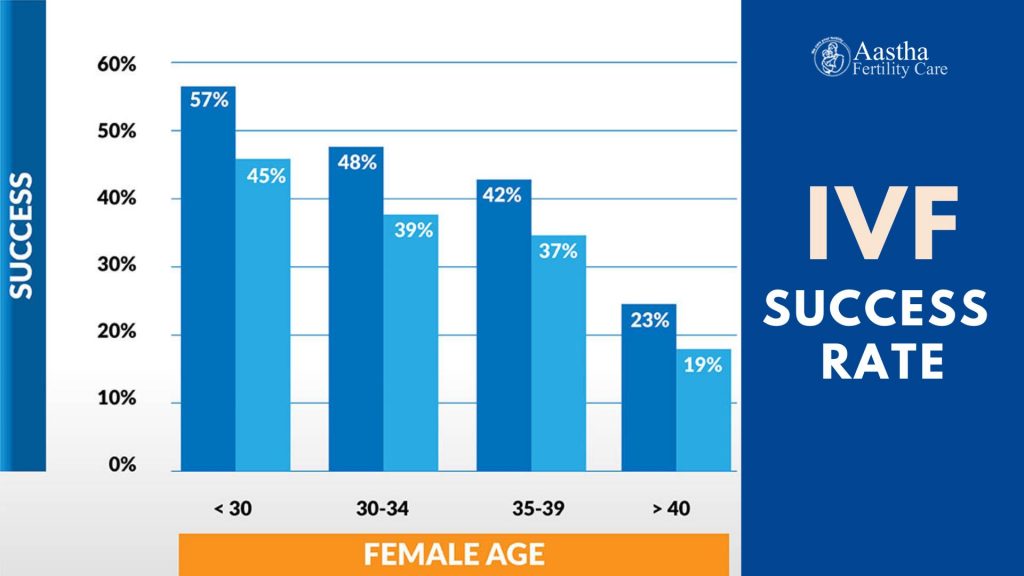 IVF Success Rates From 23-35 Years Old
The success rates in women younger than 35 in India are very likely, as age has always been a massive factor in pregnancy for both natural and ATS methods. Women under 35 have a significant advantage in this regard. The IVF success rate of women under 35 is usually from 70% to 80%.
IVF Success Rates For Women Aged 23 To 35
Age has always been a significant determinant in pregnancy for natural and ATS procedures. Thus, the success rates in India among women under 35 are highly likely. Women under the age of 35 are greatly favoured in this situation. Women under 35 typically have an IVF success rate of 70% to 80%.
IVF Success Rate Over Women Aged 40 To 43
Due to the already mentioned age problem, the success rate of IVF for women over the age of 40 is just about 30%. The best choice for women in this age group to think about is IVF surrogacy, nevertheless.
How Can Personal Health Cause IVF Failure For Women Under 35?
Problems With Young Females Under 35
Personal health is typically a significant barrier for women under 35 who want to become pregnant through an IVF transplant.
The outcome of an IVF transplant is influenced by lifestyle factors like drinking, smoking, and BMI. You need to adopt a better lifestyle up to three months before your cycle starts, just like with natural pregnancies.
The following reproductive health issues could lower your success rate:
Endometriosis
G-CSF
D&C
Tubal Ligation
Ectopic Pregnancy
Low Ovarian Reserve
Adenomyosis
Male Factor Infertility
Fertility is not always a woman's problem; if you are a couple, here are a few questions you might have about your male partner's infertility and how it affects your IVF success rate.
IVF Success Rate With Low Sperm Count And Motility
Some men with low sperm counts of fewer than 5 million motile sperm may find it more challenging to conceive normally, but because the sperm and egg are so close together in a Petri dish, fertilisation may still occur. However, there is a low success rate.
IVF Success Rates After Vasectomy
After a vasectomy, the success rate of IVF is a startling 70%. Even if you still have a vasectomy, all that is required is for medical professionals to remove sperm from your testicles physically.
Aastha fertility is just a click away if you deal with any of these issues.
How To Increase The Success Rate of IVF In Women Under 35?
Working with a team that comprehends your unique needs and can provide you with therapy and medical assistance through your IVF process is a dependable path to choose. You can embark on a successful IVF journey with the help of Aastha Fertility Care, an IVF facility in India that guarantees success.
PGS Testing:
Preimplantation Genetic Screening (PGS) and Preimplantation Genetic Diagnosis are the two types of PGS testing (PGD). The euploids, genetically normal embryo cells, can be identified through genetic testing. Knowing each embryo's genetic disadvantages might help you improve your IVF success rates.
IVF Success Rate Calculator
The following variables can affect how successful your IVF procedure is:
Sufficient slumber and rest.
Using vitamin D and supplements.
Consuming a healthy, balanced diet.
Exercising.
Let's Compare What is Best for YOU!
There is no right or wrong option in this one; if you are in good health and wish to become pregnant naturally, that is your best option. However, if you're having trouble getting pregnant, IVF is your best option, and the success rate depends on a few things we have addressed and your doctor's advice. If you have questions, contact with IVF Specialists at the Aastha Fertility clinic immediately.