What Is Test Tube Baby: The Ultimate Guide
---
Fact Checked
All the blogs on this website are intended to answer your toughest questions and offer relevant doubts based on scientific studies.
Dr. Namita Kotia has been practicing infertility treatment at Aastha Fertility Care since 2010, and during this time, she has helped around 2000+ couples become parents through IVF treatment and also other assisted reproductive technology (ART) methods like ICSI, IUI, GIFT, etc. Dr. Namita provides her patients with the best possible care and treatment options.
---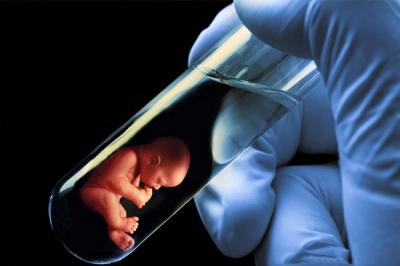 A test-tube baby is a baby conceived by a thriving human reproduction but outside a woman's body. The baby is conceived in the laboratory through a scientific process called In-Vitro fertilization (IVF). Test tube baby is a non-medical expression used for babies reproduced using artificial reproduction technique. The embryo is formed in a glass tube instead of a woman's fallopian tube; that is why it is called a test-tube baby. But in reality, the eggs and sperm are fertilized in a petri dish and not in a glass tube.
Book Free Online Confidential Consultation with Our Fertility Expert
Schedule A Confidential Call With An Expert
If you're expecting your first child, congratulations! This is a wonderful time in your life. However, if you're hoping to expand your family through IVF, there may be some additional questions you have… If so-called 'test tube babies' are an option for you, read on for answers to many of the most common questions about IVF.
What Is A Test Tube, Baby?
A test-tube baby is a term used to describe a 'test tube fertilized' embryo or fetus that is created outside of a woman's body. Sperm and the egg are manipulated using a scientific process for successful fertilization. Many couples couldn't get pregnant because of oligospermia. Although the issue of oligospermia can be treated in natural ways, IVF is a complete treatment for male and female infertility. IVF is also an optimum option for couples who don't want to pass their genetic defects to the baby.
Patrick Steptoe and Robert Edwards are the geniuses who made test-tube babies a reality. They created the first child born from a zygote fertilized outside of a woman's body with their work.
The Process of IVF Technology for Making Test Tube Baby
IVF is a process of fertilization outside a woman's body using a scientific approach. In this process, mature eggs are retrieved from one of a woman's ovaries and fertilized with the sperm of a man in a petri dish. Then the fertilized egg is transferred to the uterus.
The first test-tube baby born was a baby girl Louise Joy Brown on July 25, 1978. She was born at Oldham and District General Hospital in Manchester, England, to parents Lesley and Peter Brown. She weighed 2.6 kilograms. Leslie had infertility due to a blocked Fallopian tube.
In 1977 she underwent an experimental IVF procedure. A mature egg from one of her ovaries was removed and fused with her husband's sperm to form an embryo in a laboratory. A few days later, the embryo was transferred to Leslie's uterus.
The birth of the first test-tube baby made headlines and raised many ethical questions about what this meant for humankind, going against the flow of nature. After many years the couple had another daughter, Natalie, using IVF. Natalie became the first baby born through IVF to give birth to a child of her own. In December 2006, the first test-tube baby Louise Brown also gave birth to a boy, who was conceived naturally. It puts to rest growing concerns when children conceived through IVF may not be able to conceive naturally or get pregnant naturally.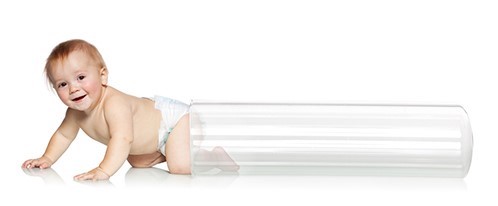 How is the IVF Process Done Today?
IVF has brought hope into the lives of many couples. With the enhancement in technology, the success rate of this procedure is also increasing. The steps to form a test-tube baby are as follows:
The doctor will prescribe some fertility drugs to the woman so that they can boost her egg production. It means her body will produce more than just one egg per month. She will receive transvaginal ultrasounds and blood tests regularly during the IVF process to check on her ovaries and monitor her hormone levels.
The woman will receive a hormone (HCG) injection a little before a day of retrieval of her eggs. This injection will help her eggs mature quickly. Then, she will undergo a minor surgical procedure called follicular aspiration to remove the eggs. The doctor will use an ultrasound to guide a thin needle into her ovaries through the vagina in an IVF procedure. A device is attached to the needle that suctions the eggs out one at a time.
While the woman is going through an IVF procedure, her partner will be asked to give the sample of his sperm. Then they proceed for high-speed sperm washing cycles to find the healthiest ones.
Now her best eggs are combined with the best sperms – this stage is called insemination.
The petri dish is kept under observation to check whether the egg is dividing or developing.
About three to five days after fertilization, the doctor will place the embryos in the woman's uterus using a catheter.
A woman who gets pregnant using IVF has a slightly higher risk of severe complications around the delivery time compared to women who conceive naturally. But it happens in rare cases only.
Pain is subjective; everyone has a different tolerance to pain, but if we talk about IVF injection, they do not involve much pain.
Get More Information About – IVF is painful or not
Pros And Cons Of The Process Of Having A Test Tube Baby
Although the process is bringing new life and giving hope to couples suffering from marriage failures, there are a few things that you need to know about IVF.
Pros of IVF
It gives couples a chance to have their baby who can not otherwise.
The success rate in IVF is much better than that of IUI. In IUI, healthy selected sperm is directly placed into the uterus, making the chances of fertilization thinner. If a woman's fallopian tubes are blocked or have fewer eggs or a partner with a low sperm count, then IVF is a more optimal option for them.
Cons of IVF
The success rates depend on egg quality, sperm quality , uterus lining etc., tests like AMH, Sperm analysis Hysteroscopy etc. will tell the details that help determine success rates.
Multiple embryos transfer can increase the risks of twins pregnancy.
Consult Experts for All Your Doubts
IVF is a very effective process, but asking experts is always impactful. To avoid any complications and a better success rate, one must choose the best fertility center. Since many issues can arise at the time of conception like a bulky uterus is a major problem in females, Our IVF Specialists team at Aastha fertility care individualizes the couples to maximize success rate IVF processes under expert surveillance of Dr. Namita Kotia. The team shall guide you through the whole process and will make the IVF process smooth sailing for you.