Understand Primary And Secondary Infertility- Types & Differences
---
Fact Checked
All the blogs on this website are intended to answer your toughest questions and offer relevant doubts based on scientific studies.
Dr. Namita Kotia has been practicing infertility treatment at Aastha Fertility Care since 2010, and during this time, she has helped around 2000+ couples become parents through IVF treatment and also other assisted reproductive technology (ART) methods like ICSI, IUI, GIFT, etc. Dr. Namita provides her patients with the best possible care and treatment options.
---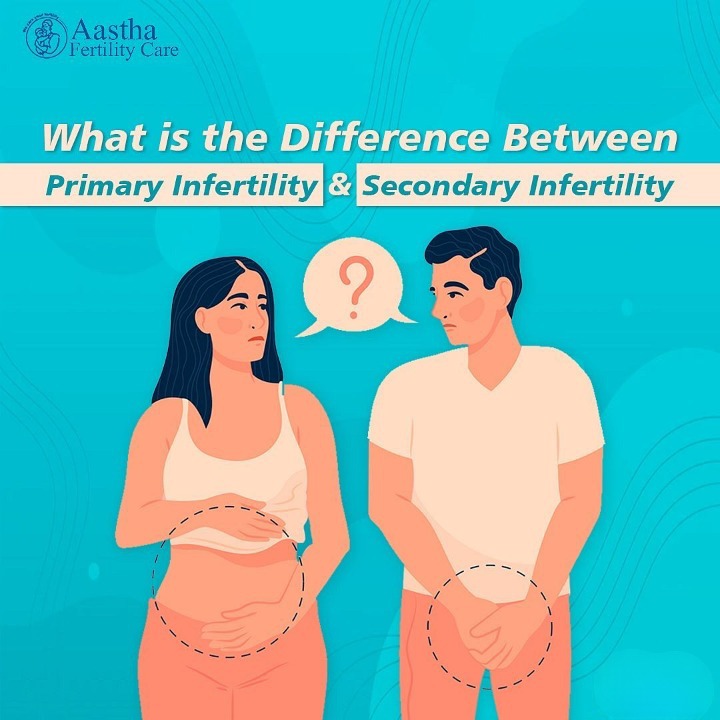 Introduction
Book Free Online Confidential Consultation with Our Fertility Expert
Schedule A Confidential Call With An Expert
Infertility in men and women is when a woman cannot conceive after being sexually active within one year when no contraceptive products are used. According to The World Health Organization (WHO), infertility is a reproductive system disorder. So, just as with any other ailment, you must seek infertility treatment with us which is more like therapy. We suggest to our reader that before taking any medication or treatment for infertility, you must understand the types of infertility and their causes. With the proper understanding, you can choose the right ART treatments like IVF/ IUI/ IVF-ICSI/ IVF with donor sperm or any other treatment that would help you conceive.
Understanding Infertility With Statistics
Many individuals of reproductive age worldwide are affected by infertility, which affects their communities and families. According to WHO, infertility affects about 186 million individuals and 48 million couples worldwide.
Infertility in men is usually related to problems with movement or motility of the sperm, morphology or abnormal shape of the sperm, low levels or absence of the sperm, and semen ejection.
Besides, female infertility can be caused by many problems with the endocrine system, fallopian tubes, ovaries, uterus, and several other things.
Types of Infertility- Primary And Secondary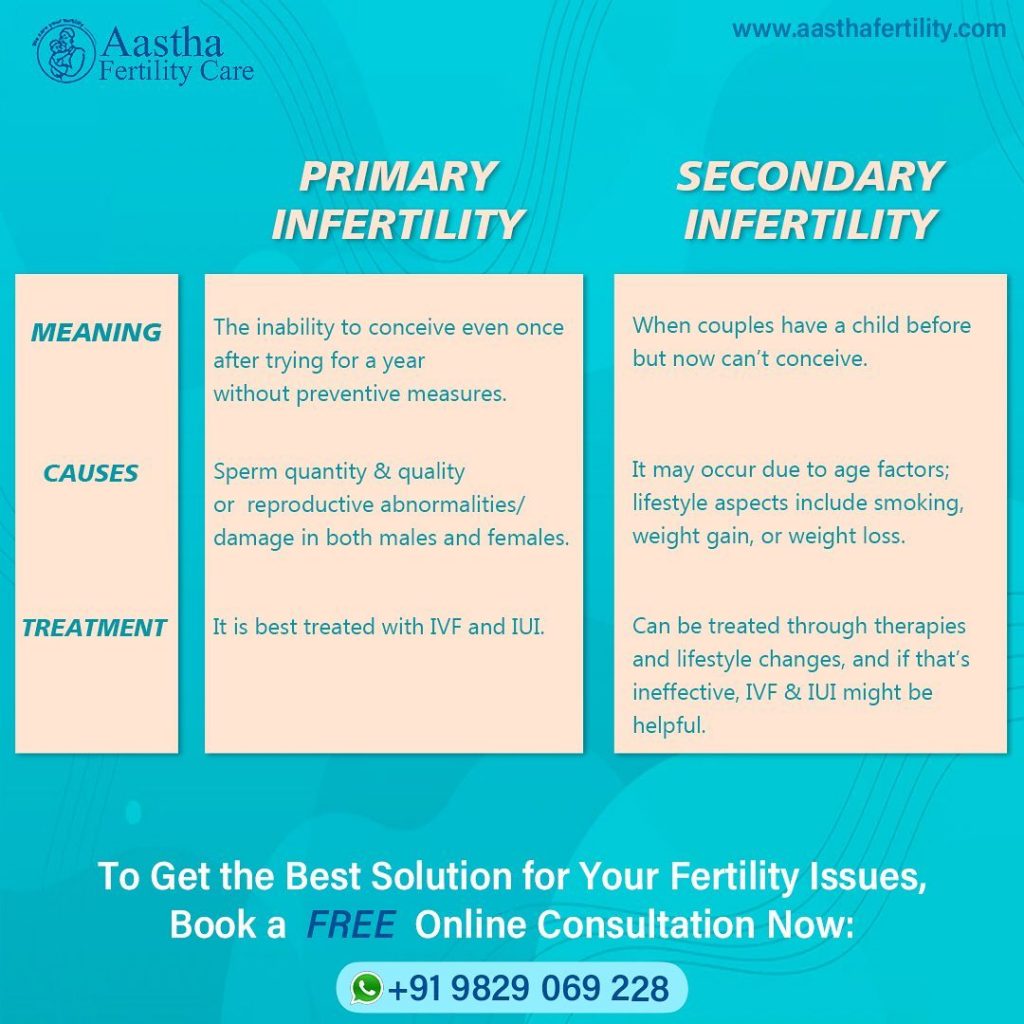 Primary infertility and secondary infertility are two different types of infertility.
Primary infertility occurs when an individual has never conceived.
When a female cannot have a child because either body doesn't support her or she can't continue a pregnancy to term. It is the primary cause of infertility.
Symptoms
Females whose pregnancies naturally miscarry,
Pregnancies end in a stillborn baby.
Those who have never delivered a baby to a live baby have primary infertility.
Secondary infertility occurs when an individual has had a minimum of one past pregnancy.
It is defined as a female's inability to continue the pregnancy to term or conceive after giving birth to a live child.
Symptoms
Female whose later pregnancy after one childbirth leads to a stillborn baby
Unexpected miscarriages
Having trouble conceiving in some cases
Primary And Secondary Infertility Causes
The primary and secondary causes of infertility are nearly identical. Generally, both spouses must be evaluated through different tests like AMH blood test, Hysteroscopy, and TVS diagnosis to see if there are any issues.
For males, low sperm count, abnormal and normal proportion, motility, semen quality, etc., must be checked.
Medication, weight gain, age, medical ailment, surgery, infection, and other factors may cause issues with sperm function, release, or production.
For females, poor ovulation, i.e., egg release and formulation, the bulky uterus, blocking or closing of fallopian tubes, etc., is the main cause of not getting pregnant. After successful childbirth, you may experience different problems that may affect your fertility, including:
Infections that blocked the fallopian tube.
Any issue associated with surgery or childbirth.
Disorders, including genital tuberculosis, adenomyosis, fibroid, endometriosis, etc.
Issues associated with ovulation.
Age-associated decrease infertility because of the deteriorating number and quality of the egg.
Medical conditions, such as hypertension, diabetes, or weight gain.
Difference Between Primary Infertility And Secondary Infertility
The treatments and causes may sound similar for primary and secondary, but the emotions and circumstances experienced to make a major difference.
# Primary infertility is due to the inability to conceive even once after trying for a year without preventive measures. In comparison, secondary infertility is when couples have a child before but now can't conceive.
# Primary infertility is best treated with IVF, while secondary infertility can also be caused by stress which can be treated through therapies.
# Primary Infertility has a low success rate, while secondary infertility has a high success rate.
# The leading cause of primary cases can be sperm quantity and quality or reproductive abnormalities or damage. Infertility may occur due to age factors; lifestyle aspects include smoking, weight gain, or weight loss.
Tips to Deal With Infertility- Primary Or Secondary
Dealing with primary or secondary infertility is difficult. Our doctors and experts understand this and share some tips that can help you adapt to the changes and keep your well-being and health.
IVF treatments or any other ART treatment can take time. Hence, it is crucial to continue with your daily routine and keep faith and patience with the process.
Instead of focusing exclusively on your true objective of becoming pregnant, you must set little targets for your spouse and yourself.
The infertility treatment is determined by the reason, which could entail counselling and education about the infertility problems.
Follow the fertility specialist's proper diagnosis or investigation methods to save extra time and money yourself.
A proper diet and proper sleeping habits can help you remain strong during this emotionally draining process.
Don't follow the prevailing myths about IVF, instead, listen to what experts have to say.
Conclusion
You are not alone in your infertility struggles, even if you are diagnosed with secondary or primary infertility. It could be stressful, unexpected, and demanding. It is important to stay hopeful about the outcomes of your treatments, but in the meanwhile, it's a great option to focus on the things you can manage. Besides, infertility at any stage is prevalent, and there are many strategies to cope with it while undergoing various treatments. Fertility care is essential when you want a child, including diagnosis, treatment, and infertility prevention. Hence, for any form of emotional, psychological, or medical help and support, you must visit Aastha Fertility Care and get advice from experienced infertility specialists.